Noah Smithwick was at "The Alamo"


Smithwick's an Irish original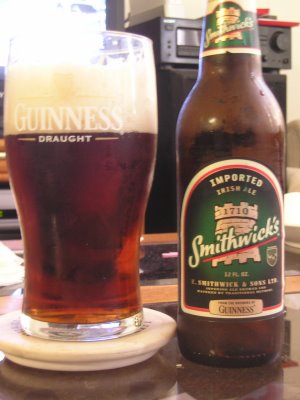 Smithwicks is Ireland's number one ale. Its exceptional taste, distinctive colour and purity of ingredients make it unique. Its rich, satisfying taste has earned it five gold medals in the famous Monde Selection Beer Tasting Competition.
Smithwick's was originally brewed in St. Francis Abbey Brewery in Kilkenny, situated on the site of a Franciscan abbey where monks had brewed ale since the 14th century. It is Ireland's oldest operating brewery, founded by John Smithwicks on land owned by the Duke of Ormonde.
Smithwick's has been the largest selling ale brand in Ireland since the 1920s, a position it holds to this day. Smithwick's is now brewed in Dundalk as well as in Kilkenny.
Smithwicks Fishing Lures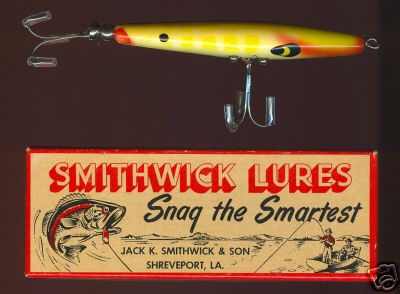 Smithwick Lure Company History
In about 1947, when I was a young lad, my dad began carving lures cut from the handles of brooms my mother kept around the house. It first began as a hobby. Dad was a salesman for a local business machine company and he began giving these prized, hand-crafted fishing lures to his business machine customers to set himself apart from other salesmen. What started as a sales promotion move soon grew into an activity that began to occupy most of his "spare time." Soon, tired of buying new brooms, and banished from the kitchen when mother thought he was looking for another one, dad felt compelled to move his hobby to the garage and begin purchasing wood for his fishing lures from a local lumber yard.
In 1949, fishermen, learning of the success others had enjoyed with dad's handmade fishing lures, began hounding him to purchase the lures in larger numbers. It was this demand that made him realize that this fishing lure business was getting serious. Soon after that realization, he took his first steps to "mass produce" his lures by purchasing a small wood lathe from Sears, Roebuck and Company and moved it into his garage shop.
The first fishing lure to be produced with this new "mass production" equipment was the renowned "Devil's Horse." Since most anglers used level-wind style reels, dad designed the Devil's Horse first as a heavier, slow-sinking lure, one that was easy to cast with these reels. Later, with the advent of spinning and spin-cast reels, he began to turn-out a lighter, floating model of this now locally popular and productive fishing lure.
The growth of the Smithwick Lure Company is legendary. From its humble beginnings in my family's kitchen in 1947 to its sprawling manufacturing facilities today, the lures have become the favorites of generations of anglers. The continued development of new Smithwick fishing lures, new colors and the latest in lure finish technology is a tribute to the foresight my father, Jack K. Smithwick, demonstrated back in 1947. All of us at the Smithwick Lure Company are proud of the standards he established for quality, value and performance, all attributes anglers have come to know and expect from Smithwick Lures for over six decades. This is how he set himself apart. Set yourself apart—with Smithwick.
Jack A. Smithwick (pictured above)

I am sure I have an uncle Jack but I am holding out for the Brewery connection
NIKE SMITHWICK TRAINERS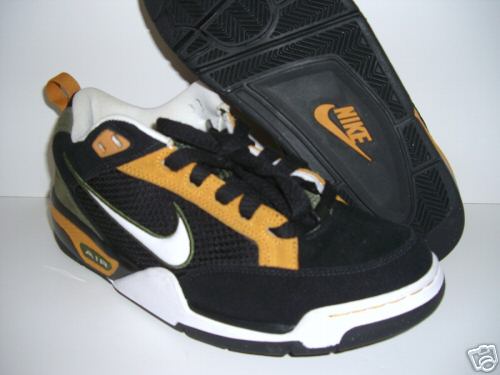 I have no idea why they are called "Nike Smithwick" trainers or even
"Nike Banger Smithwicks"!!
.Smithwick Machine?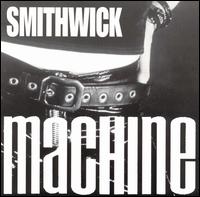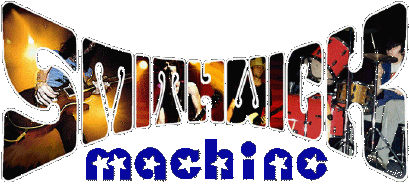 Heavy metal band from Alabama
Sam Smithwick-Guitar and Vocals, Johnny Fuller-Guitar, Patrick McCown-Bass, Jamie Rogan-Drums, Carl Rouse-Drums, Scott Carl-Drums, Jim Taylor-Bass, Darin Gray-Drums, Duquette Johnston-Bass, Lucky Fondren-Bass, Tom Bagby-Drums, Johnny Blade-Guitar, Robbie Knievel-Drums
  http://www.myspace.com/smithwickmachine 
Support the family I bought the cd "Dixie Witch", it needs to be Loud.
Sam Smithwick Texas Politician/Pimp
When three Mexicans tried to exercise their right to vote in 1911 at the county seat of San Diego, they were shot to death. A Spanish-speaking politician named Archie Parr stood up for the powerless pariahs, a gutsy move that earned their undying respect and blind loyalty.
Exploiting the old country culture of the Mexicans, Parr assumed the role of "patron" ostensibly taking care of his illiterate followers in return for their bloc vote. This unbeatable combination made the former cowboy the political boss of South Texas, whose word was law in Duval and several adjacent counties.
Parr moved up to the state senate in 1914 and took along 13-year-old George as his page. Twelve years later, Archie engineered the youth's election as Duval County judge, and the son ruled the roost in the absence of the father who remained in Austin another decade.
The Parrs instituted a spoils system and cynically enriched themselves at taxpayers' expense. To avoid a public trial that would have exposed the source of their vast wealth, George pleaded guilty in 1934 to income tax evasion.
After violating the conditions of his probation, he served nine and a half months for the crime. But a full pardon from President Harry Truman wiped the slate clean in 1946 and enabled him again to hold public office.
The proud papa lived long enough to see his offspring add the counties of Jim Wells and Nueces to their empire. After Archie's death in 1942, George took complete control of the finely tuned political machine.
Although Parr had in the past backed Coke Stevenson, he opposed the ex-governor's bid for the 1948 Democratic senatorial nomination. George snapped his fingers and Duval, Nueces and Jim Wells counties obediently bestowed 10,547 votes on Congressman Lyndon B. Johnson to a token 368 for Stevenson.
Nevertheless, the official count five days after the election showed Stevenson ahead by 113 votes out of nearly a million statewide. Forty-eight hours after this announcement, a "corrected" return from Box 13 in Jim Wells County pushed LBJ over the top.
Astonishingly popular with the last-minute electorate in Parr Country, Johnson was the choice on 202 of the 203 tardy ballots. Before the tabulations and voting list mysteriously vanished, investigators discovered that the decisive votes had been cast in alphabetical order and several by civic-minded residents of the local cemetery.
With a tip of his Stetson to the Duke of Duval, "Landslide Lyndon" went merrily off to Washington and took a giant step down the road to the White House.
But even George Parr could not save Texas for Adlai Stevenson four years later in the presidential contest of 1952. Dwight Eisenhower soundly beat the Democrat by better than 133,000 votes.
Parr had a simple explanation for the one-sided outcomes of his suspicious plebiscites. "The people of Duval County go along with me because they are my friends and are satisfied with the government they are getting."
As much as Parr enjoyed masquerading as a benevolent dictator, his reign was sometimes cruel and bloody. In Jim Wells County, an Alice radio personality lost his life in a courageous campaign against corruption.
After W.H. Mason accused lawman Sam Smithwick, a cog in the Parr machine, of operating a wide-open brothel, two burly deputies beat him senseless. When Mason kept up the attack, Smithwick gunned him down in broad daylight in July 1949.
To the murderer's amazement, his trial ended in conviction and a life sentence. Angered by the betrayal, Smithwick wrote Coke Stevenson from prison to say he was ready to reveal the sordid truth about Box 13 and the stolen election. Before he could spill the beans, Smithwick was found dead in his cell, the victim of a supposed suicide.
The Duke himself did not get off entirely scot-free. Although a 1957 conviction for mail fraud was thrown out by the U.S. Supreme Court, Parr once more ran afoul of the Internal Revenue Service and was found guilty a second time of short-changing Uncle Sam.
Facing ten years behind bars, 74-year-old George Parr chose to take his own life rather than die in prison. On April Fool's Day 1975, he drove out to his ranch, parked in a secluded spot and killed himself.
"Outlaws & Lawmen" - "Best of This Week in Texas History" Vol. VI is $10.95 plus $3.25 postage and handling from Bartee Haile, P.O. Box 152, Friendswood, TX 77549. And don't forget to visit www.twith.com.
Another booze connection
History as told through liquid amber
Cooper George Smithwick at the former Yorkshire Brewery in Collingwood, where his father and grandfather worked.
Picture:Joe Armao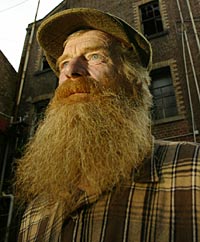 There are a thousand ways to tell the story of Melbourne and its people. One of them, as a new exhibition at the Town Hall's City Gallery shows, is through the story of beer. James Button reports.
George Smithwick is the sixth in a line of coopers that stretches back to 18th-century Ireland. His father and grandfather made beer barrels at the Yorkshire Brewery in Wellington Street, Collingwood. But in the early 1950s, Carlton & United Breweries, which took over the site in 1907, changed their barrels from wood to steel, and the cooperage closed. Smithwick's father, Les, had to find another job.
George Smithwick left school at 15 to become a cabinet-maker. Over 25 years, he rose to run a furniture factory. Then his father died suddenly, aged 64. A week later, his mother asked him to pack up his father's shed at her house in Anglesea. Smithwick looked at the tools and was hit by a wave of grief. He didn't clean up the shed. He lay awake for a week, thinking. Then he threw in his job and good salary and, at the age of 40, took up his father's trade.
"I had a mid-life crisis, didn't I?" he says. "You see your father's tools, and your grandfather's, and some of your great-grandfather's, and you think, 'How do you do this?' I couldn't just put them into boxes and put them under the house." Deciding to become a cooper "meant that my father wasn't gone, if that doesn't sound stupid".
Eighteen years later, he makes barrels for individuals and wineries from his home in Beveridge, north of Melbourne. "I'll never be rich, but I'm happy," he says. He thinks he is one of four working coopers left in Victoria.